Near the end of January, Tom and I embarked on a 6 week trip to New Zealand (5 weeks in New Zealand and one week in Australia). We took in all the "tracks" (hikes) and all the highlights that six weeks would allow. We had a great time and many adventures. Most of the time was spent on the South Island:  1) Fiordland National Park (Milford Track, Routeburn Track, and Doubtful Sound), 2) Abel Tasman Nat Park, 3) the Southern Alps (incl Mt. Cook Nat Park), and 4) the west coast.  On the North Island, we walked the Tongariro Alpine Crossing and toured the sights. We only spent one week on a side trip to Australia to see Sydney and snorkel in the Great Barrier Reef.
The weather was not always kind to us on this trip – Much of New Zealand is a tropical rain forest and it lived up to that reputation. Other than several days of very heavy rain while hiking (including the remnants of a tropical cyclone), the trip went as planned. We returned to Texas in early March. During the trip, We hiked about 176 miles and I took over 4000 photos that I  narrowed down to ~1400 while in country and then down to 502 keepers.  This blog has about 50 photos from that 502.
We started with the Milford Track in Fiordland National Park – One of the "Great Walks" of the world:Â Â 33.4 Miles over 4 Days (only 2 miles of walking the first day after traveling by bus and boat to get to the start point).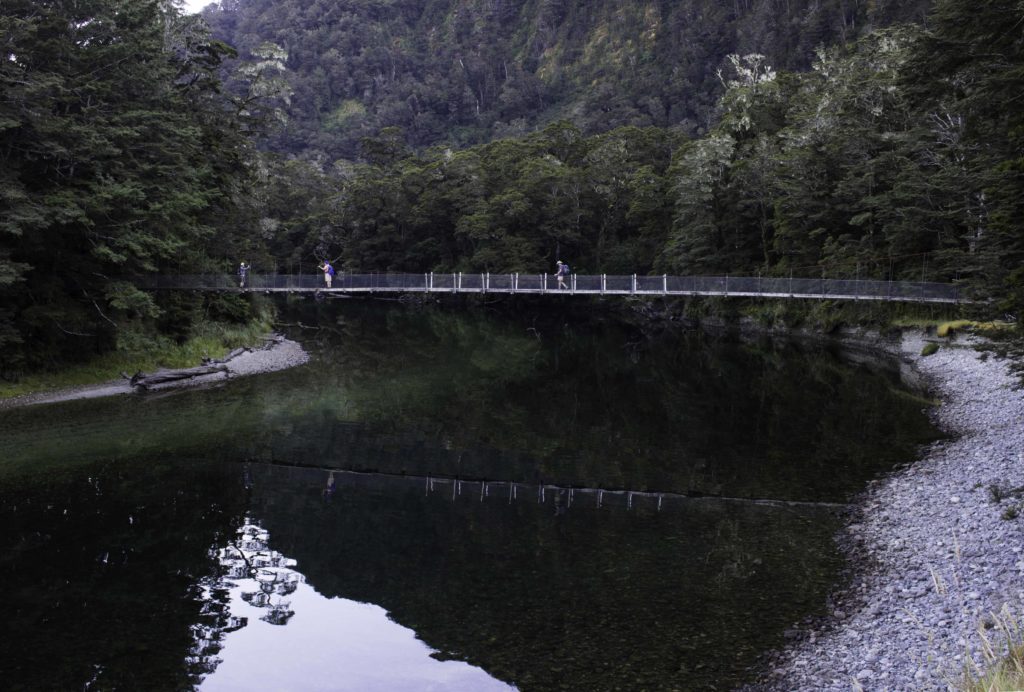 Milford Track, Day 2, Foot Bridge over the Clinton River – Jan 27, 2018
This foot bridge is just a few yards from the Glade House Lodge and the beginning of the 9.9 miles to Pompolona Lodge, the goal for the day. There are many similar foot bridges on the tracks (trails) in New Zealand.  IMG_71614_NewZealand_MilfordTrack_ClintonRv_Day2.jpg
Milford Track, Day 2 – Jan 24, 2018
Most of the first part of the Milford Track is a broad, flat path though the lush forest full of ferns and moss that follows the Clinton River. This second day of walking was 9.9 miles and only 295 ft elevation gain. – January 27, 2018 IMG_71803_NewZealand_MilfordTrack_Day2.jpg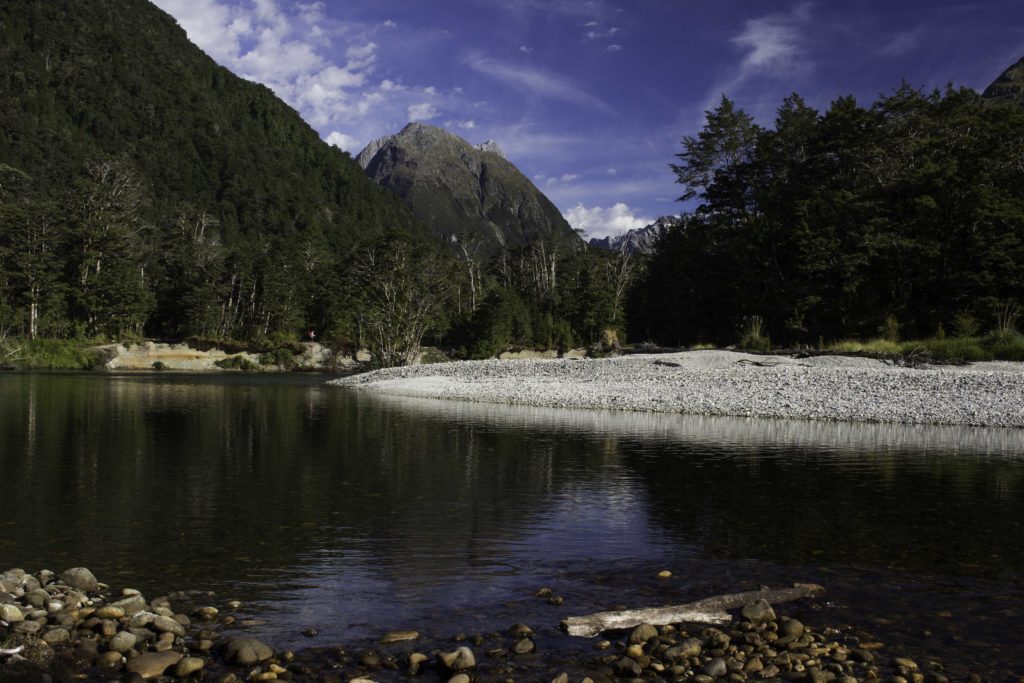 Milford Sound, Day 2 – New Zealand – Jan 24, 2018
View of the Clinton River on Day 2 of the Milford Sound Track on the South Island of New Zealand. Can you see the fellow hiker with the red pack a little left of the center? – January 27, 2018 -Â IMG_71681_NewZealand_MilfordTrack_ClintonRv_Day2
Clinton River – Milford Track day 2 – Jan 27, 2018
The water in the rivers of the New Zealand parks is clear and clean. Because there are no large mammals, the water is safe to drink without treatment (and we did without issues). – IMG_71717_NewZealand_MilfordTrack_Day2.jpg
Weka along Milford Track – Jan 27, 2018
This flightless bird is a Weka (Gallirallus australis – rail family) and is about the size of a small chicken. You would see them in the path and they would move over to the side as you passed and then back unto the track. We did not see any Kiwi as they are rare and nocturnal. The rats, possums, and stoats introduced by humans have severely impacted the Kiwi and other small flightless birds. Stoats are part of the weasel family and were introduced to control the previously introduced rabbits. There were stoat traps everywhere to try to eradicate the pest. IMG_71772_NewZealand_MilfordTrack_Weka_Day2.jpg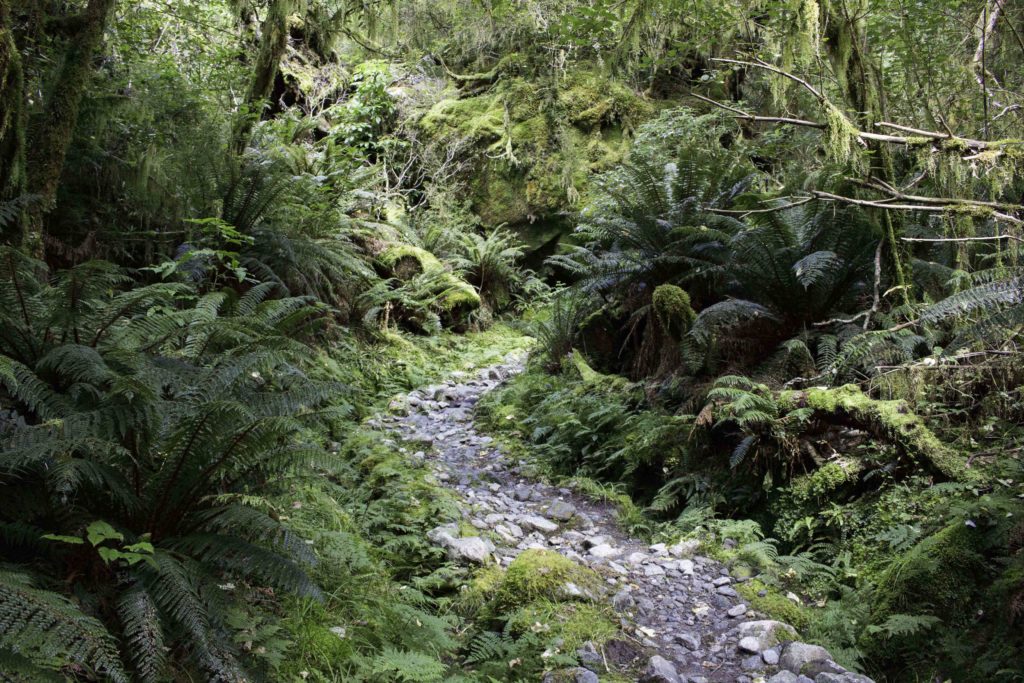 Milford Track – Day 3 – Approaching Mackinnon Pass – Jan 28, 2018Â 
On day 3 we continued through the forest as we approached the 20+ switchbacks to climb the 2395 ft elevation rise up to Mackinnon pass. – IMG_71836_NewZealand_MilfordTrack_Day3.jpg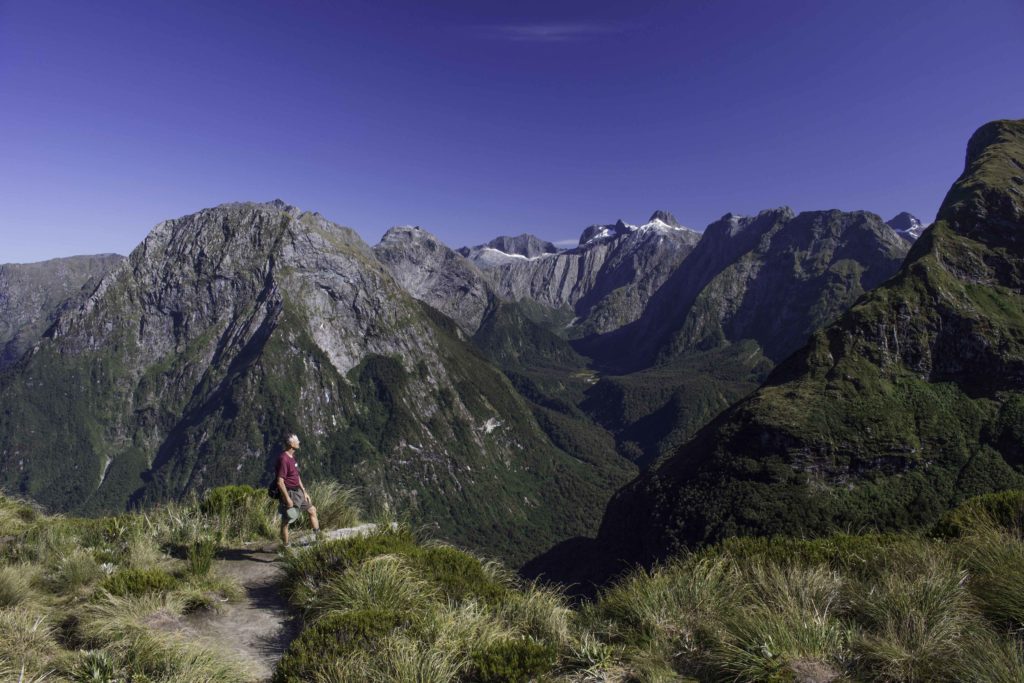 Mackinnon Pass of the Milford Track Day 3 – Jan 28, 2018
That's me looking out over the Arthur Valley from Mackinnon Pass. The Arthur Valley is where we will hike the rest of the day and the day after. We were so very lucky to have clear skies while at the pass (frequently not the case). Just in front of me is a 2000+ foot shear drop into the glacier carved valley.  IMG_71886_NewZealand_MilfordTrack_MacKinnonPass_Day3.jpg
Mackinnon Pass – Milford Track Day 3 – Jan 28, 2018
IMG_71925_NewZealand_MilfordTrack_MacKinnonPass_Day3.jpg
Clinton Canyon from Mackinnon Pass, Milford Track Day 3, Jan 28, 2018
This is looking back at the glacier carved canyon where we hiked along the bottom for the last 1.5 days -Â  IMG_71943_NewZealand_MilfordTrack_MacKinnonPass_ClintonCanyon.jpg
Anderson Cascades, Milford Track Day 3 – Jan 28, 2018
One of a cascade of five waterfalls on Moraine Creek as you descend the stairs of the track from Mackinnon pass. -Â  Â IMG_71984_NewZealand_MilfordTrack_AndersonCascades_Day3.jpg
Sutherland Falls, Milford Tack Day 3, Jan 28, 2018
Sutherland Falls is one of the tallest waterfalls in the world at 1904 ft of elevation drop in 3 stages. It is so tall, it was hard to get it all in the photo. The naming rights of Sutherland falls was the result of an agreement: In 1880, Prospectors John McKay and Scottish Donald Sutherland were exploring up the Arthur Valley from Milford Sound and they had a prior agreement that MacKay would name the first "new" (new to a westerner) waterfall that they found (McKay Falls – there is a photo later). Sutherland had the right to the name of the second waterfall (that turned out to be  the more impressive waterfall). There is another popular story that the naming rights sequence was the result of a coin toss. Who knows! The Maori call this magnificent falls the White Thread of Te Tautea – IMG_72098_NewZealand_MilfordTrack_SutherlandFalls1904ft_Day3.jpg
Dipping into Sutherland Falls, Milford Tack Day 3, Jan 28, 2018
Tom and Alice taking a dip in the chilly waters at the bottom of Sutherland falls. The force of the water dropping over 800ft and impacting the boulder creates a strong horizontal wind in all directions that adds to the chill factor. It was too cold for my taste.   IMG_72121_NewZealand_MilfordTrack_SutherlandFalls1904ft_Day3.jpg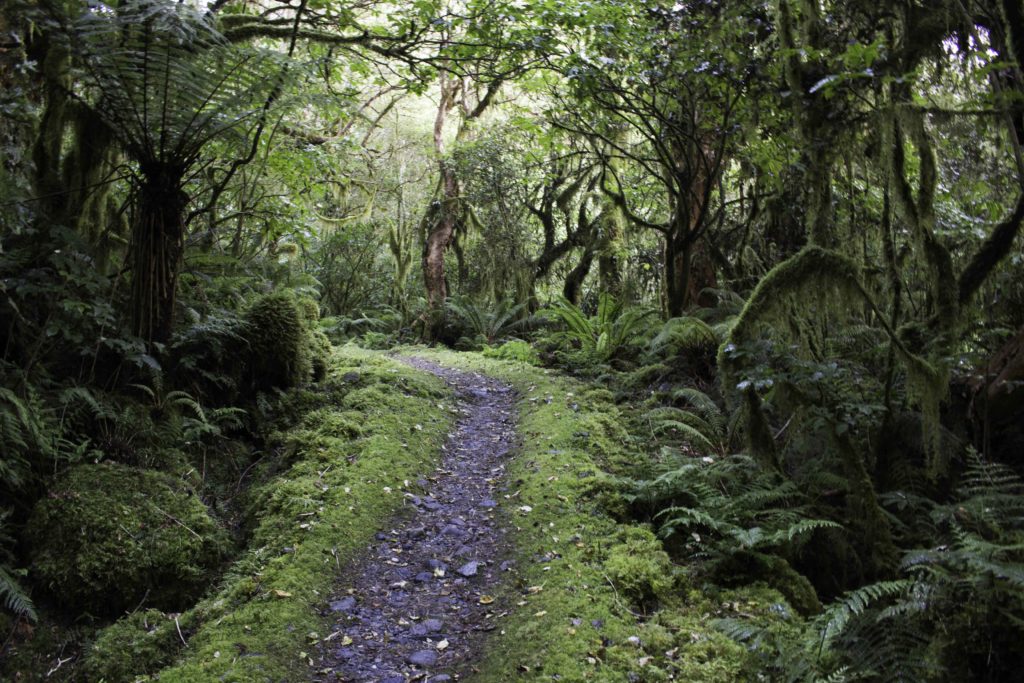 Milford Tack, Day 4 toward Sandfly Point – Jan 29, 2018
The last leg of the track begins in the fern filled forest before opening up along the Arthur River. – IMG_72155_NewZealand_MilfordTrack_Day4.jpg
Misty Mountains on the Milford Track, Day 4, Jan 29, 2018
IMG_72261_NewZealand_MilfordTrack_Day4.jpg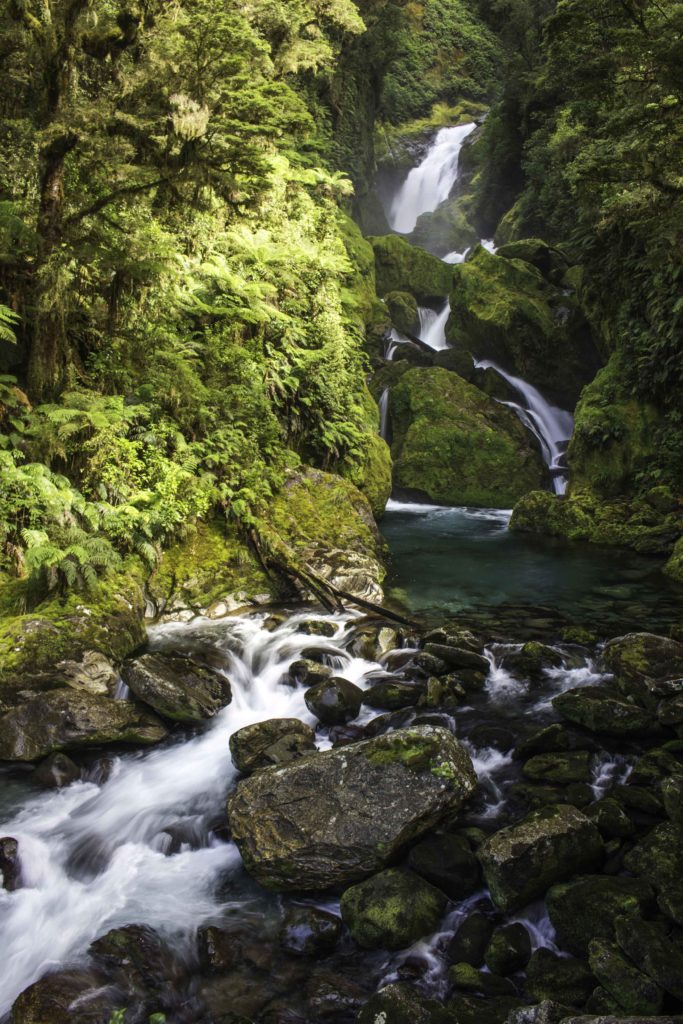 MacKay Falls, Milford Track, Day 4 – Jan 29, 2018
John MacKay named these falls and David Sutherland then named the taller Sutherlands falls (see the Sutherland Falls photo for the story). The MacKay falls are not as tall (82 ft) but are very pretty – IMG_72290_NewZealand_MilfordTrack_MacKayFalls_Day4.jpg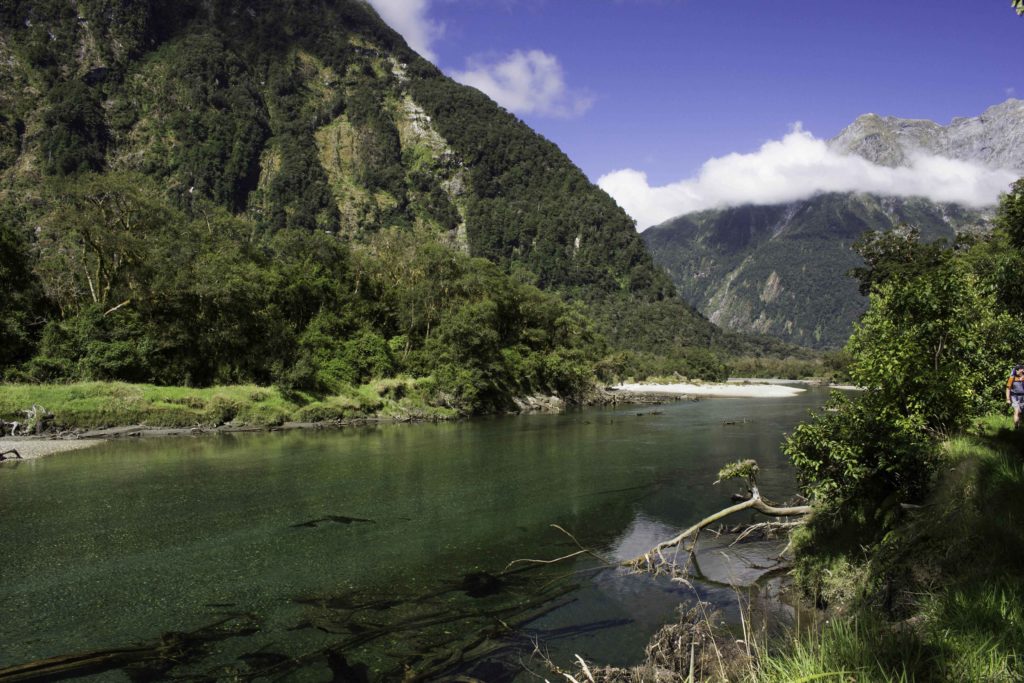 Authur River and Milford Track Day 4, Jan 29, 2018
The clear cool waters of the Authur River flow along the flat grassy Milford Track. – IMG_72344_NewZealand_MilfordTrack_AuthurRv_Day4.jpg
Sandfly Point – End of the 33.4 mile Milford Track, Jan 29, 2018
The Milford track ends at the Milford Sound at Sandfly Point. The area is named after the small biting flies that are abundant in the area (and other areas all over New Zealand). The flies were not a big problem as long as you were moving or if there was a good breeze – This helped keep one from standing still too long. I tasted the water from the sound and was surprised it was fresh water. Learned later that the top 20 feet or so of the sound is fresh water floating above the salt water below – there is so much rain water entering the sound that these two layers  are maintained. – IMG_72408_NewZealand_MilfordTrack_SandflyPt_Day4.jpg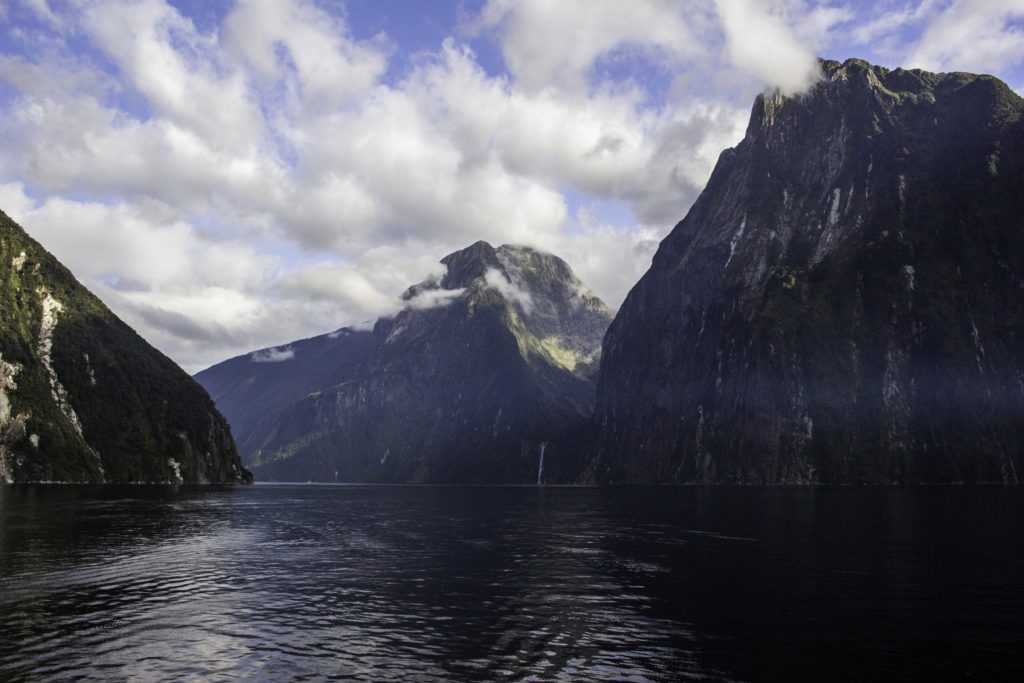 Milford Sound, Jan 30, 2018
The day after the Milford Track walk, we took a cruise through the Milford Sound. You can see one of the numerous waterfalls near the center of the photo. The mountains rise thousands of feet above the water. Near the mouth of the sound we saw seals sunning on the rocks. – IMG_77232_NewZealand_Milford_Sound_Day5.jpg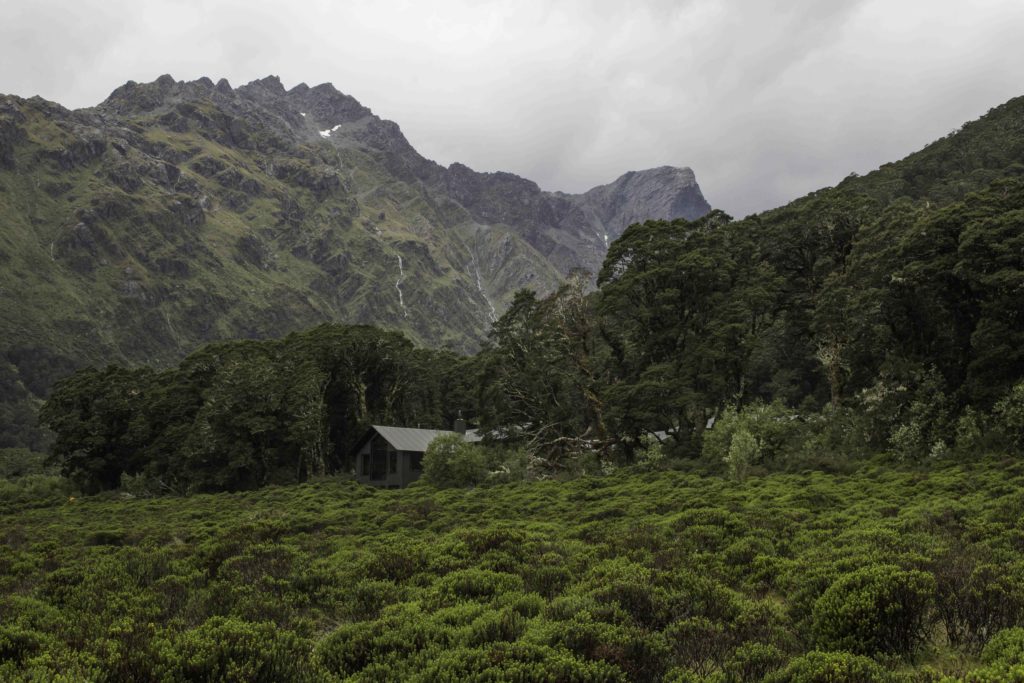 Lake MacKenzie Lodge, Routeburn Track Day 1, Jan 31, 2018
The Routeburn track is also in Fiordland National Park and is known for the views of the mountains. We did not have a drop of rain while on the Milford Track for 4 days but that was not that case for the Routeburn Track. It was raining when we started and we had heavy rains the second day. The Park closed the track to independent hikers but our guided tour continued. The reports were that we had 6 inches of rain the second day and I believe it. Many sections of the path were underwater and there were "new" streams crossing the path and waterfalls everywhere. I later overheard two guides talking that it was more rain than they had ever seen on this track. For the second day of walking, I double-bagged my camera and it stayed in my pack so no photos. It was one of the few things that did not get wet. Needless to say, we saw very few views from the track or while at the saddle. The first day we walked 8.1 miles with 1266 ft rise and the second day 9.3 miles with 1339 ft rise and 1077 ft drop. – IMG_77356_NewZealand_RouteburnTrack_LakeMacKenzieLodge_Day1.jpg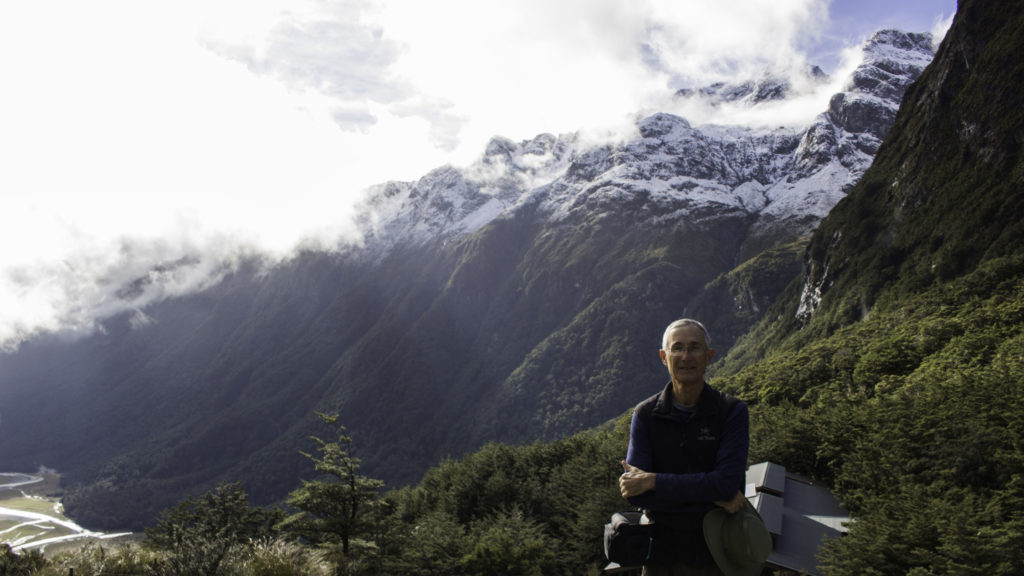 Routeburn Track, Day 3 – Randy at Routeburn Lodge, Feb 2, 2018
The next day after the rain was a beautiful day with fresh snow on the mountains and many flowing waterfalls. I am standing on the helipad with the lodge behind me. The walk on this today was a 6.2 mile 1361 ft drop down into the valley below to the end of the track. IMG_77381_NewZealand_RouteburnTrack_RouteburnLodge_Day3.jpg
Routeburn Track, Day 3, Feb 2, 2018
Fresh snow on the mountains. – IMG_77387_NewZealand_RouteburnTrack_Day3.jpg
Routeburn Flats, Day 3, Feb 2, 2018
IMG_77397_NewZealand_RouteburnFlats_Day3.jpg
Doubtful Sound, Feb 5, 2018
We took a overnight cruise on Doubtful Sound. This area is remote, has no development, and other than this tour, few visitors. We traveled by bus, then boat, then bus again to arrive at the boat trip on the sound. It rained most of the two days of this trip and it was nice to be undercover vs. hiking. Because of the rain, there were waterfalls everywhere.  – IMG_77766_NewZealand_DoubtfulSound.jpg
Pancake Rocks in Paproa National Park, Feb 9, 2018
Pancake rocks are located on the west coast of the South Island in Paproa National Park. The bands of limestone are separated by thin bands of softer mudstone. The formations have been eroded by rain, wind and the sea to expose the layers. The water is the Tasman Sea that separates New Zealand from Australia. We walked the several short tracks around the rock formations and down to the beaches.  – IMG_78262_NewZealand_Paproa_PancakeRocks.jpg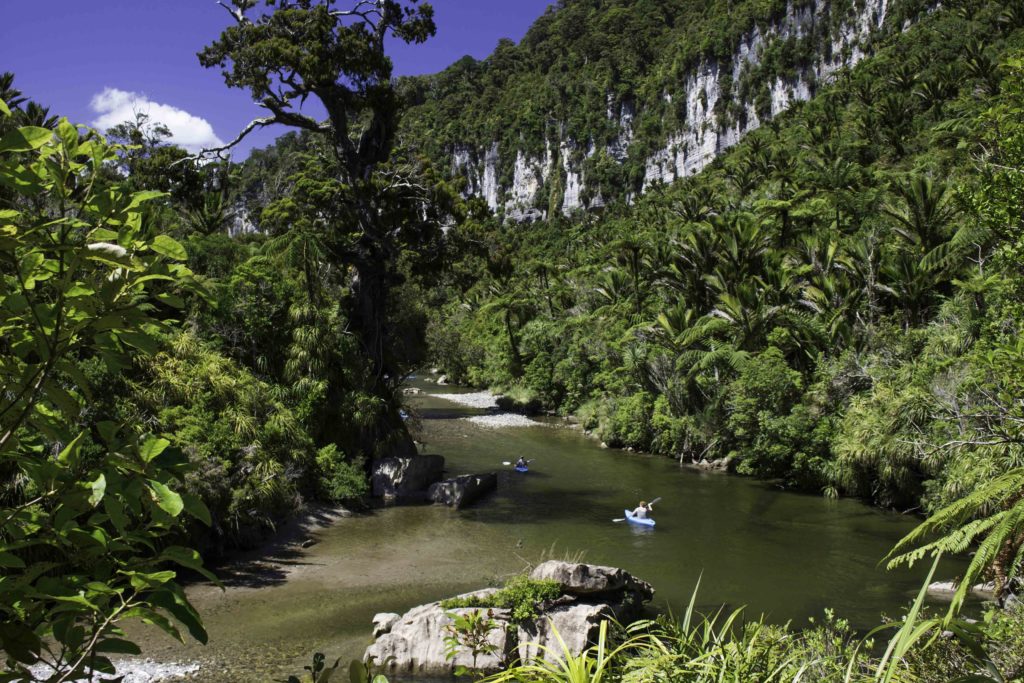 Paproa National Park, Feb 9, 2018
We walked this track along the Paproa river. – IMG_78334_NewZealand_PaparoaNat_PororariRiverTrack.jpg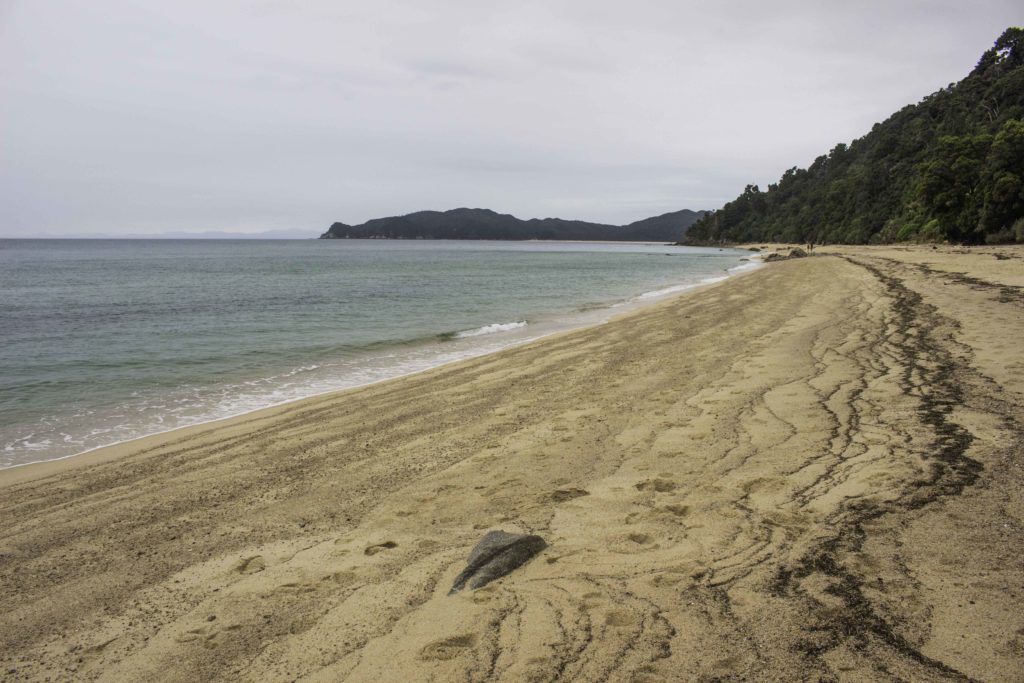 Abel Tasman Track, Day 1 – Goats Bay, Feb 10, 2018
After a water taxi from Marahau to Totaranui, we began the three day Abel Tasman Track, one of the great walks of New Zealand. We walked the 25.7 miles back to Marahau. This track follows along the northern coastline of the South Island and alternately crosses beaches, forested hills and low water crossings. The first day from Totaranui to Awaroa covers 3.4 miles and about 350 ft elevation.  – IMG_78416_NewZealand_AbleTasman_GoatsBay_Day1.jpg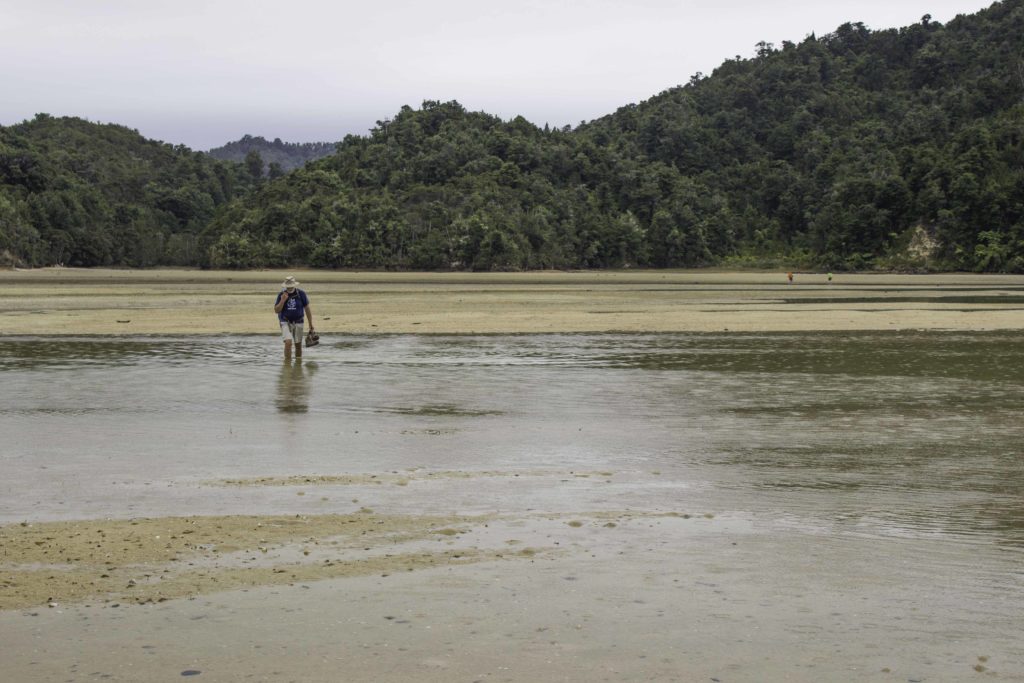 Abel Tasman Track, Day 1 – Awaroa Inlet, Feb 10, 2018
We had to "time" the hike to cross the Awaroa Inlet at low tide. – IMG_78428_NewZealand_AbleTasman_AwaroaInlet_Day1.jpg
Abel Tasman Track, Day 1 – Awaroa Inlet, Feb 10, 2018
Part of the Awaroa Inlet at low tide.  IMG_78442_NewZealand_AbleTasman_AwaroaInlet_Day1.jpg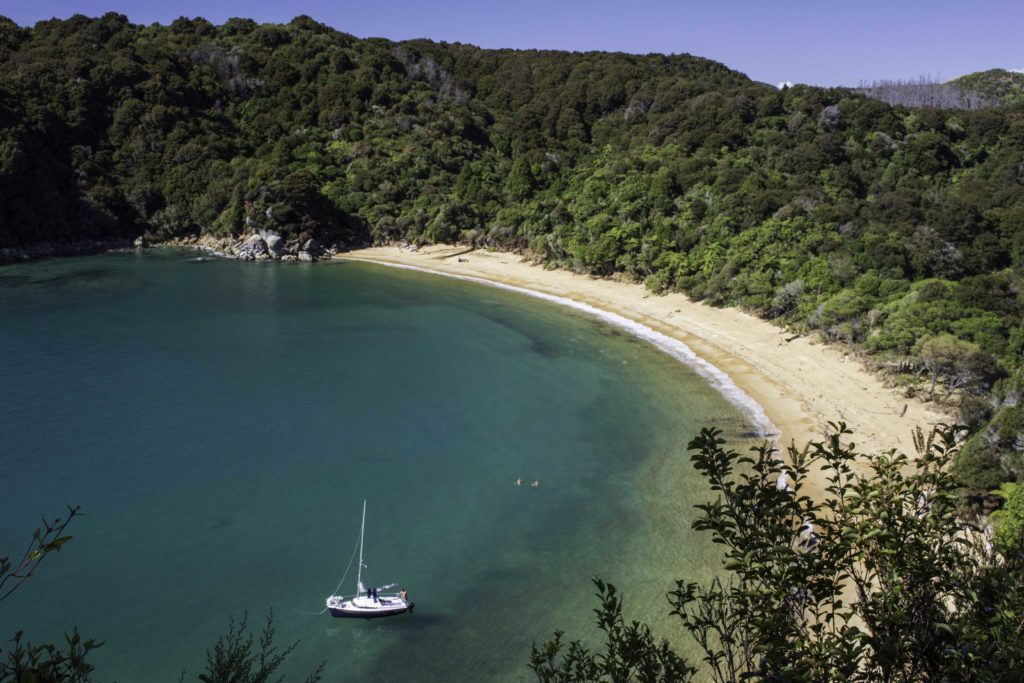 Able Tasman Track, Day 3 – TePukatea Bay, Feb 12
A beautiful day for a swim!  (after heavy rains on day 2 -14.6 miles, 1600 ft elevation, 8 inches of rain!! – so minimal photos)  – IMG_78539_NewZealand_AbleTasman_TePukateaBay_Day3.jpg
Abel Tasman Track, Day 3 – Anchorage, Feb 12, 2018
In the upper left of the photo you can just see the low water crossing area (sand colored) that required crossing a swift flowing, waist level stream the day before – should have been only calf deep but the heavy rains flooded the stream. On this 3rd day we hiked the final segment of the track: 7.7 miles and about 500 ft elevation rise with opportunities to visit and swim at several beaches. – IMG_78583_NewZealand_AbleTasman_Anchorage_Day3.jpg
Abel Tasman Track, Day 3 – Sandy Bay, Feb 12, 2018
A view of Sandy Bay near the track endpoint at Marahau – IMG_78619_NewZealand_AbleTasman_SandyBay_Day3.jpg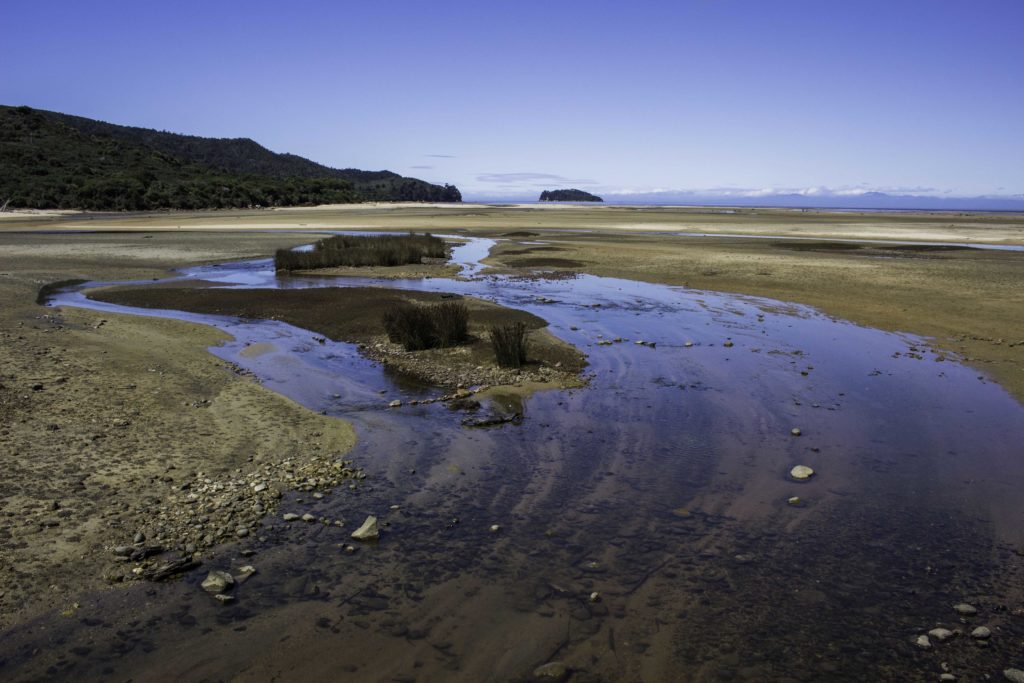 Abel Tasman Track, Day 3 – Low tide at Sandy Bay, Feb 12, 2018
IMG_78632_NewZealand_AbleTasman_SandyBay_Day3.jpg
Peak Hill, New Zealand Southern Alps, Feb 14, 2018
We began our REI New Zealand Southern Alps hiking tour by climbing Peak Hill for a view of the mountain range. Below you can see the farmland with the lines of trees that serve as wind breaks to stop soil erosion from the 60+ mph winds. There is no road to this farm – they have to drive through the shallow river bed.  – IMG_78657_NewZealand_PeakHill_REI.jpg
A view from Rex Simpson Hut – Feb 16, 2018
The REI tour hiked up to the Rex Simpson Hut, a private hut where we stayed for 2 nights to explore the area. Nice view of the mountains from the back of the Hut  – IMG_78889_NewZealand_RexSimpson_REI.jpg
Rainbow on the way to Beuzenberg Peak, Feb 17, 2018
We started out the morning in the rain to climb up to Beuzenberg Peak (7.2 miles, 2600 ft elevation rise). On the way up the rain gave way to clearer skies and then we had a rainbow below us. First time I have seen a rainbow from above. – IMG_78953_NewZealand_BeuzenbergPeak_REI.jpg
Hike to Beuzenberg Peak, Feb 17, 2018
Rajesh, a fellow hiker and photographer, is taking photos of the mountains – IMG_78968_NewZealand_BeuzenbergPeak_REI.jpg
Ridge Line down from Beuzenberg Peak, Feb 17, 2018
Our hiking group is spread out along the long ridge line down from Beuzenberg Peak. You can see the aqua colored lake waters below – the color comes from light reflection from the suspended glacial "flour" – small particles of rock ground by the glaciers that remain suspended in the water for long periods of time.   – IMG_79046_NewZealand_BeuzenbergPeak_REI.jpg
New Zealand Spear Grass – Feb 17, 2018
Before humans came to New Zealand, the terrain was full of this spear grass. As the name implies, the leaves are very sharp and the settlers worked to remove as much as possible to make way for sheep farming. Note that sheep farming is down – now there are only 6 sheep per person in New Zealand.  – IMG_79085_NewZealand_SpearGrass_REI.jpg
Leaving Rex Simpson Hut, Feb 18, 2018
The hike down from Rex Simpson Hut with views of the mountains – IMG_79137_NewZealand_RexSimpson_REI.jpg
Mountain View, Feb 18, 2018
IMG_79155_NewZealand_RexSimpson_REI.jpg
Mount Cook – Feb 18, 2018
Mount Cook is the tallest mountain in New Zealand at 12,218 ft. We had planned several hikes in Aoraki National Park, but tropical cyclone Gita dumped much rain. One of the hikes was to Mueller Hut, a steep climb, but it was sleeting rain at that altitude. We did several lower elevation hikes, some in the rain. – IMG_79180_NewZealand_MtCook_REI.jpg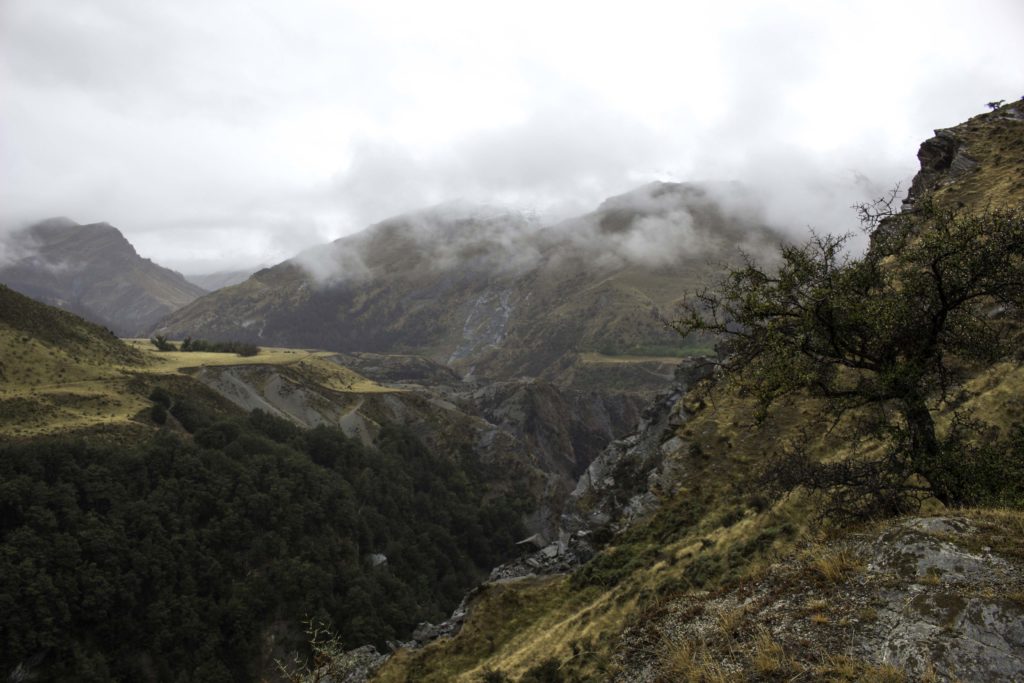 To Ben Lomond Station, Feb 21, 2018
Our final hike with REI was a 2 day track from the Shotover river to Ben Lomond Station and then to Queenstown. We took a thrilling ride in a dedicated bus up Skipper Canyon Road, an old mining shelf road – one of the only 2 roads where auto insurance will not cover your car in New Zealand. A jet boat took us up the Shotover river to the start point of our hike. Of course it was raining. It was 10 miles and 1400 ft elevation rise to our destination, Ben Lomond Station (a sheep ranch). We hiked along the steep canyons. The Station was a ranch house and several A-frame buildings for sleeping. The privately owned station was off the grid, dependent on fire wood and solar panels but was quite nice. Enjoyed the fireplace at the end of the day and the great hospitality of our hosts.   ( – IMG_79295_NewZealand_BenLomond_REI.jpg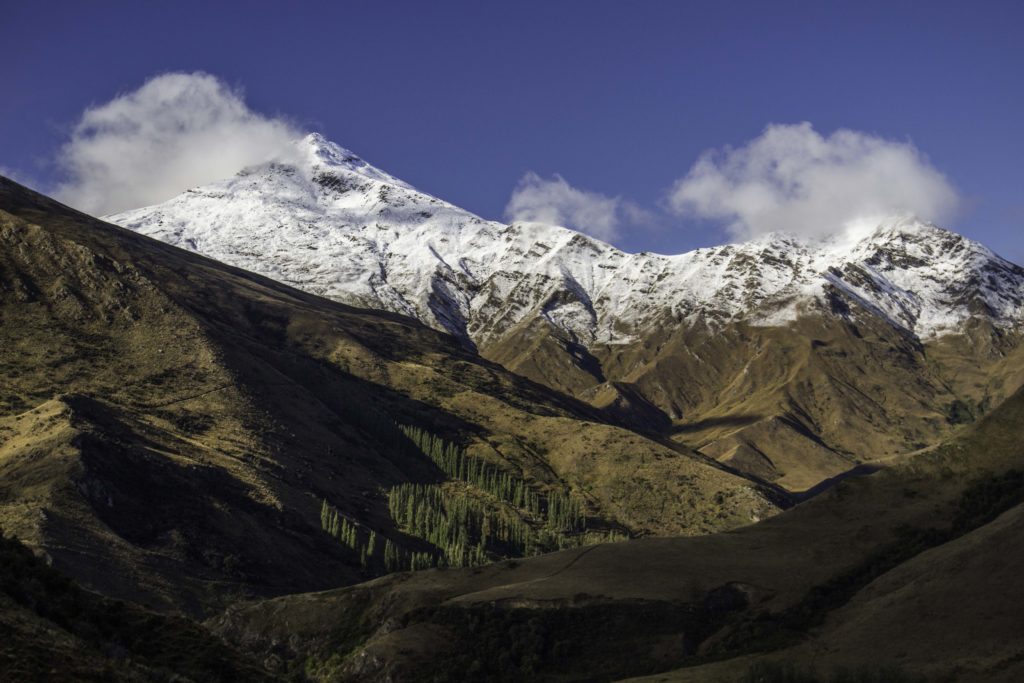 Ben Lomond Peak, Feb 22, 2018
The previous day's rain provided a fresh coat of snow on the mountains. – IMG_79538_NewZealand_BenLomond_REI.jpg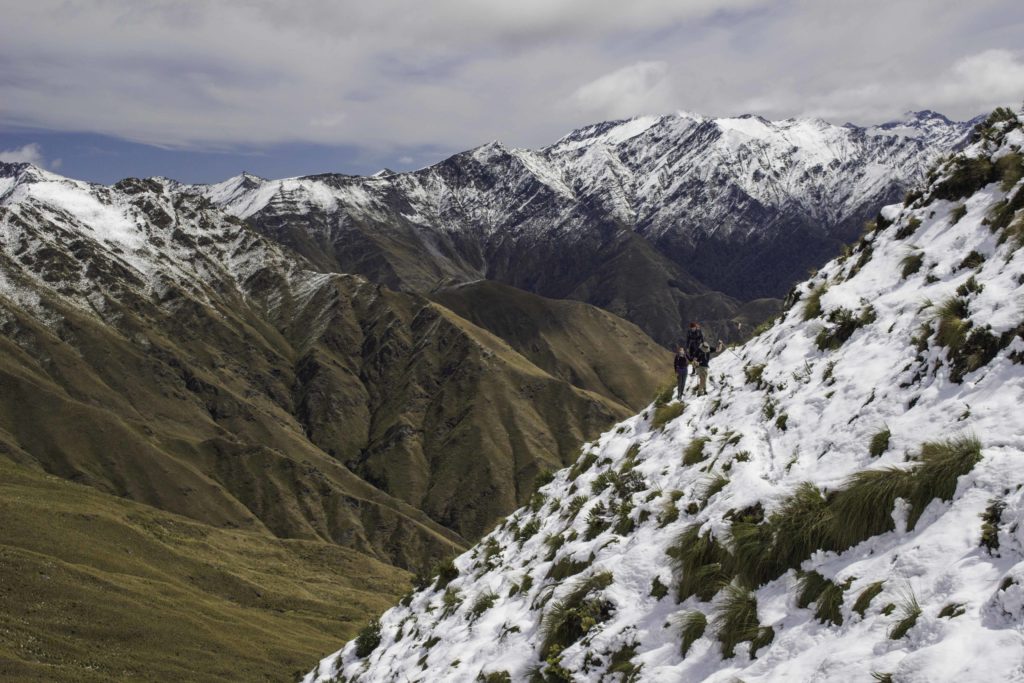 Hiking in the Snow, Feb 22, 2018
The fresh snow looked very pretty when we started out but once we climbed up above the snow line, we had to pay more attention to hiking the track to stay upright. The goal this day was to hike 10 miles with 3000 ft elevation rise and then 1600 ft drop down to Queenstown – IMG_79585_NewZealand_BenLomond_REI.jpg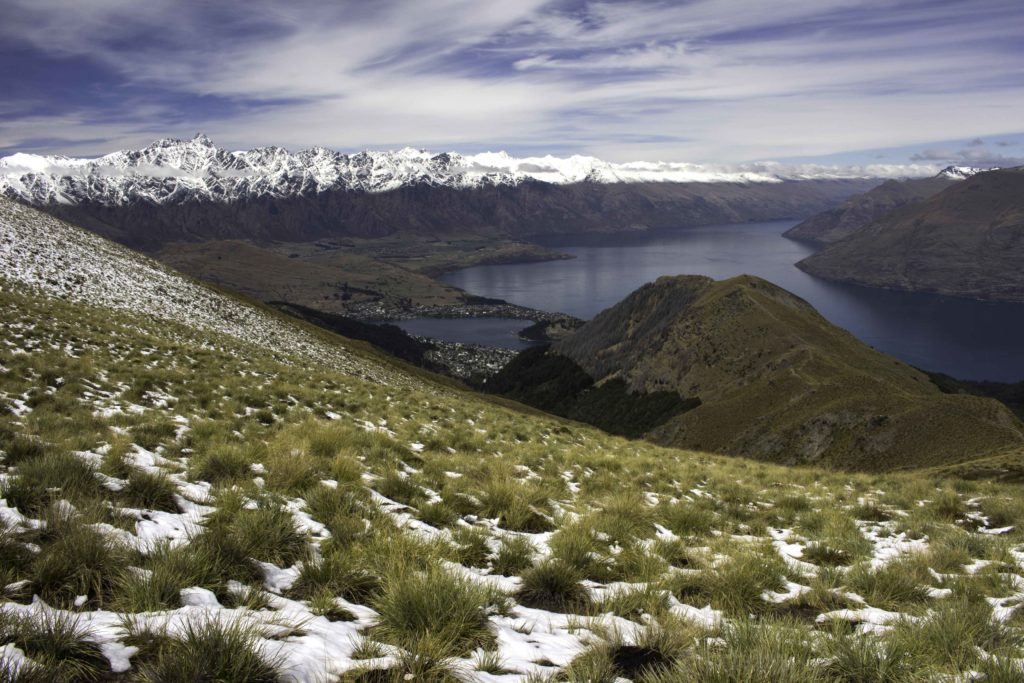 Ben Lomond Saddle and Queenstown, Feb 22, 2018
From the Ben Lomond Saddle you can see the snow capped Remarkables mountain range and Queenstown below. The Remarkables supposedly got their name from a geologist that found it "remarkable" that they were the only mountain range in the world that aligned perfectly north and south. Our trip ended behind the foothill in the foreground where we took a gondola back to Queenstown.     IMG_79610_NewZealand_Queenstown_fromBenLomondSaddle_REI.jpg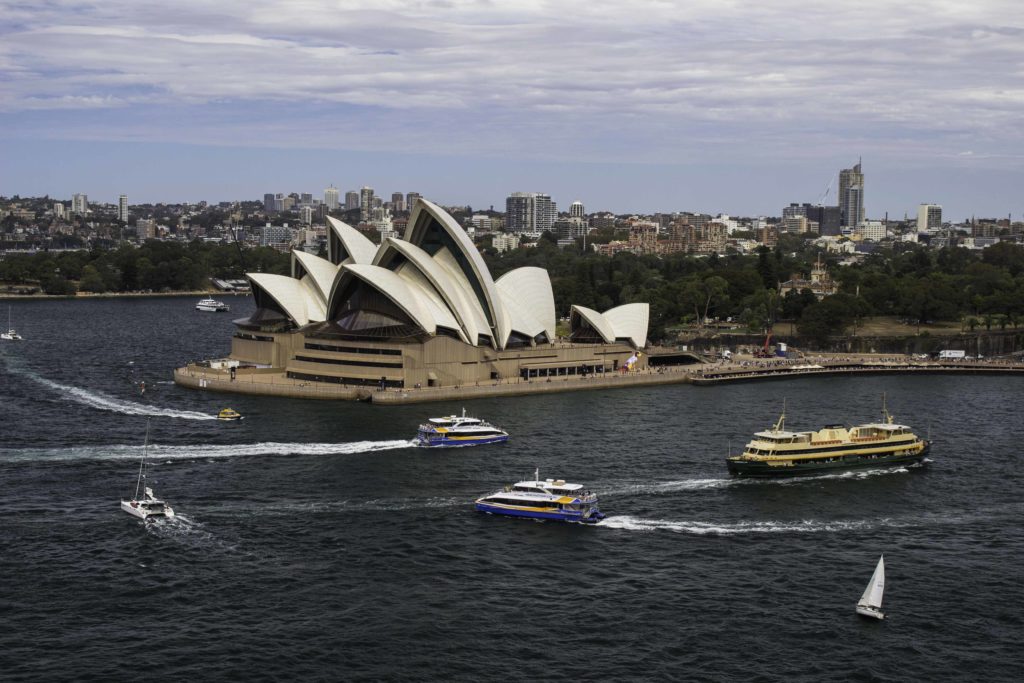 Sydney Opera House, Feb 24, 2018
We took a short side trip for a couple of days in Sydney and then to snorkel at the Great Barrier Reef. – IMG_79935_Sydney_OperaHouse.jpg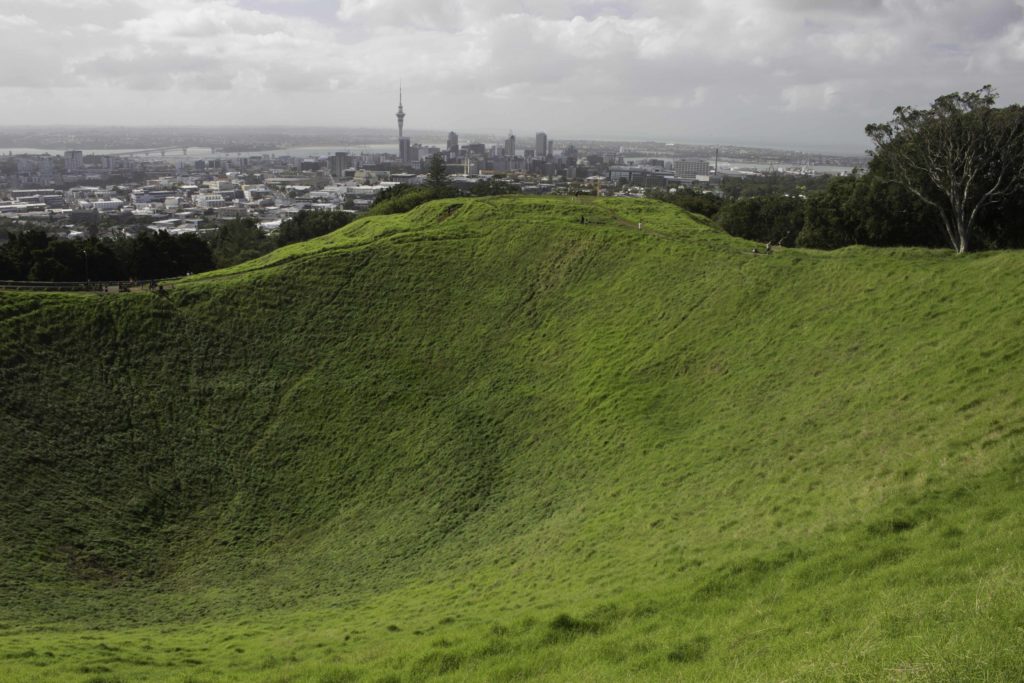 Auckland, New Zealand from Mt Eden, March 3, 2018
We returned the the North Island of New Zealand and spent a day in Auckland. This small park is an extinct volcano.  – IMG_80422_NewZealand_Auckland_MtEden.jpg
Hamilton Gardens, New Zealand – March 4, 2018
On our drive to Tongariro National Park, we stopped in Hamilton to tour the world class gardens. This photo is one of the dozen or so small gardens based on a theme/time period/place – this one was the English Tudor garden – IMG_80480_NewZealand_HamiltonGardens_Tudor.jpg
Randy and Tom on the Tongariro Alpine Crossing, March 5, 2018
The Tongariro Alpine Crossing track is one of the great walks of New Zealand and very popular. The track is 12.1 miles one way with 2518 ft elevation rise and 3698 ft drop and requires a shuttle. To beat the crowd, we were on the trail at about 5AM. The "ex" volcano mountain behind us is Mt Ngauruhoe (or Mt Doom in the Lord of the Rings movies) The area is still volcanically active and the track crosses 2 craters of past volcanos. This photo was taken from the high point of the trail. – IMG_80596_NewZealand_TongariroNatPk_MtNgauruhoe.jpg
Tongariro Alpine Crossing, March 5, 2018
Another view of Mt. Ngauruhoe and all the colored rock. – IMG_80603_NewZealand_TongariroNatPk_MtNgauruhoe.jpg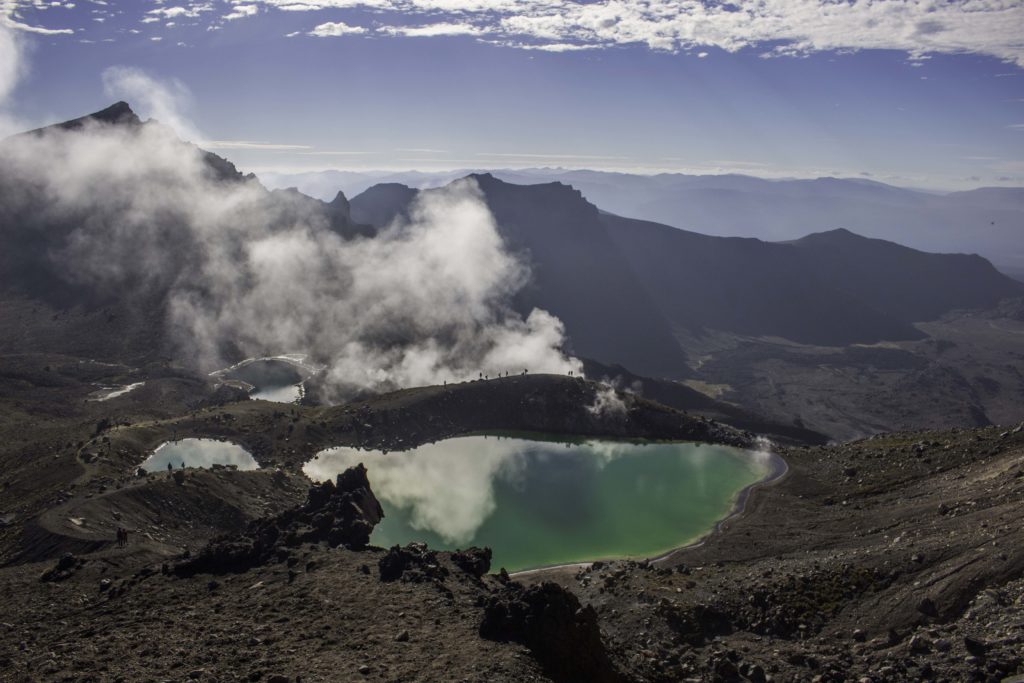 The Emerald Lakes – Tongariro National Park, March 5, 2018
These three lakes are green from dissolved minerals washed down from the crater walls. The steam is from fissures from the active volcanic area – IMG_80634_NewZealand_TongariroNatPk_EmeraldLks.jpg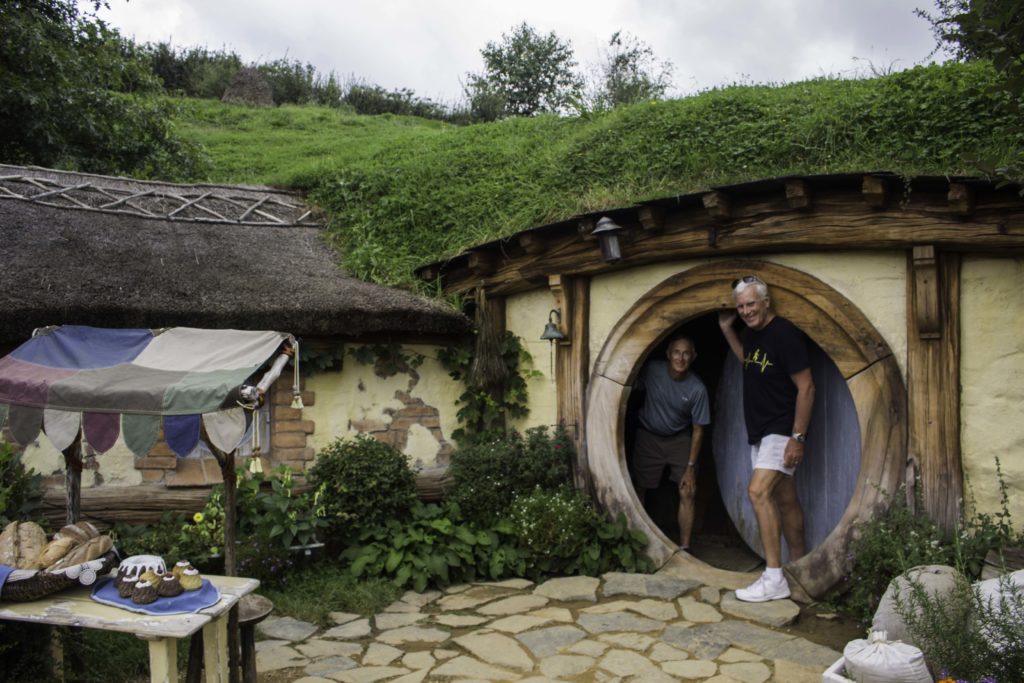 Hobbiton Movie Set, March 6, 2018
Tom and I visited the Hobbiton movie set on the way back to Auckland from Tongariro National Park. – IMG_80778_NewZealand_Hobbiton.jpg
Gannet at Muriwai Beach – New Zealand, March 7, 2018
As a part of a wine tour of the North Island, we visited the west coast black beaches of Wuriwai and saw the Australian Gannet birds (Morus serrator). These birds roost on the cliffs of the west coast on New Zealand and as soon as the young are able to fly, they take off for Australia only to return when it is time to roost again.  – IMG_80904_NewZealand_MuriwaiBeach.jpg
Categories: Hikes