We made two spring trips in 2021 in search of Texas wildflowers: One in early April in Washington County and the second in Mid April around Fredericksburg, TX. It was a relatively dry spring in Texas in 2021, so the flowers were not as widespread, but we did find nice displays in some areas.
April 1, 2021 – West of Brenham TX on FM2679 we found this display of Texas Squaw-Weed (Senecio ampullaceus) along the fence of a ranch.
We are always surprised to find flowers new to us after years of visiting. This year it was this Texas Stork's Bill (Erodium texanum) we found in Independence, TX.
The first field of Texas Bluebonnets ((Lupinus texensis) we found was on South Berlin St south of Brenham. The sweet fragrance from the mass of flowers was wonderful.
Also on S. Berlin Street there were Rose Vervain (Verbena canadensis) with a Tiger Swallowtail butterfly feeding on the nectar. This one of the showiest Verbenas and is intensely fragrant.
Karin is checking out one of the several large fields of Coreopsis (Coreopsis basalis)  This field was on Industrial Rd south of Brenham.
Around Fredericksburg, Mid-April 2021:
Most of the roads around Fredericksburg only had sparse flowers except the Willow City Loop and near Enchanted Rock (see later). At the northern end of the Willow City Loop is where the White Prickly Poppies (Argemone albiflora) tend to grow (In this photo with the mesquite trees leafing out)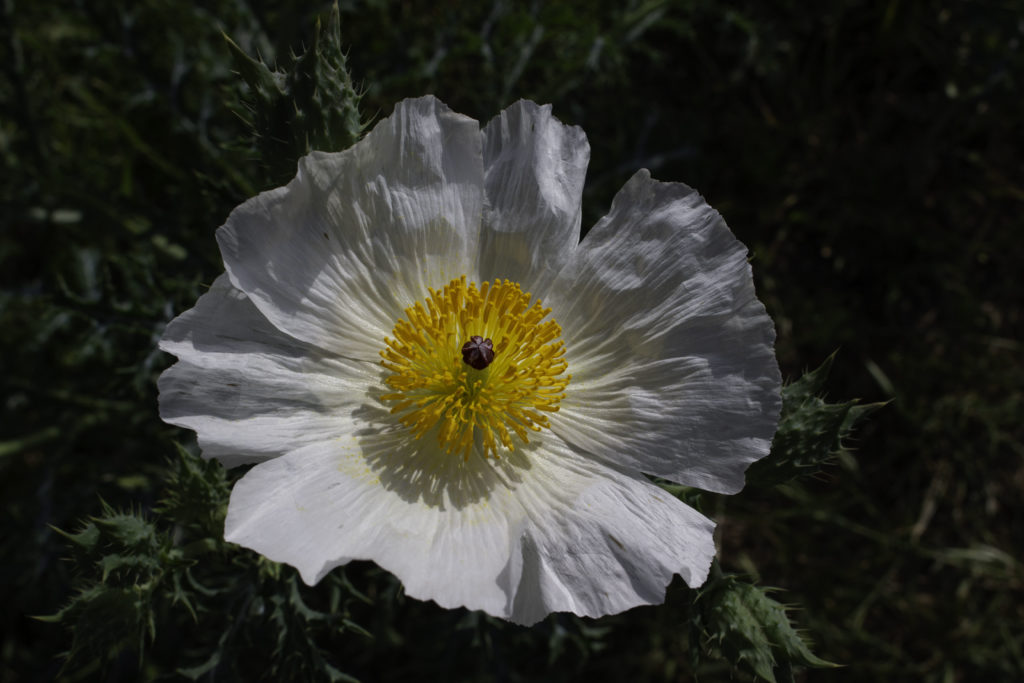 Here is a White Prickly Poppy (Argemone albiflora) bloom up close. The flowers are about 3 inches in diameter.
Karin is enjoying the White Prickly Poppies…(Argemone albiflora)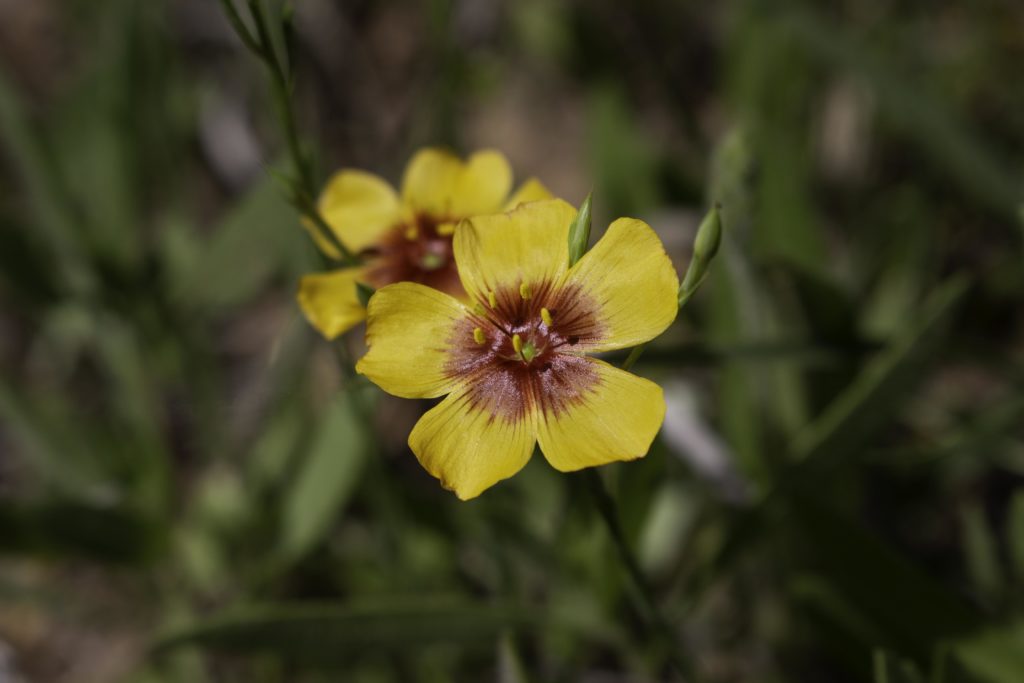 In some areas on the Willow City Loop, there were "carpets" of short yellow flowers called Stiff Stem Flax (Linum rigidum var. berlandieri).
We found a small clump of this Blue-curls (Phacelia congesta) in one spot on the Willow City Loop.
The second area we found an abundance of flowers was in Enchanted Rock Natural Area, again, north of Fredericksburg. Karin is hiking up the Turkey Pass trail after passing a patch of Greenthread (Thelesperma filifolium).
Some more Greenthread (Thelesperma filifolium) on Turkey Pass trail with purple Spiderworts in the background.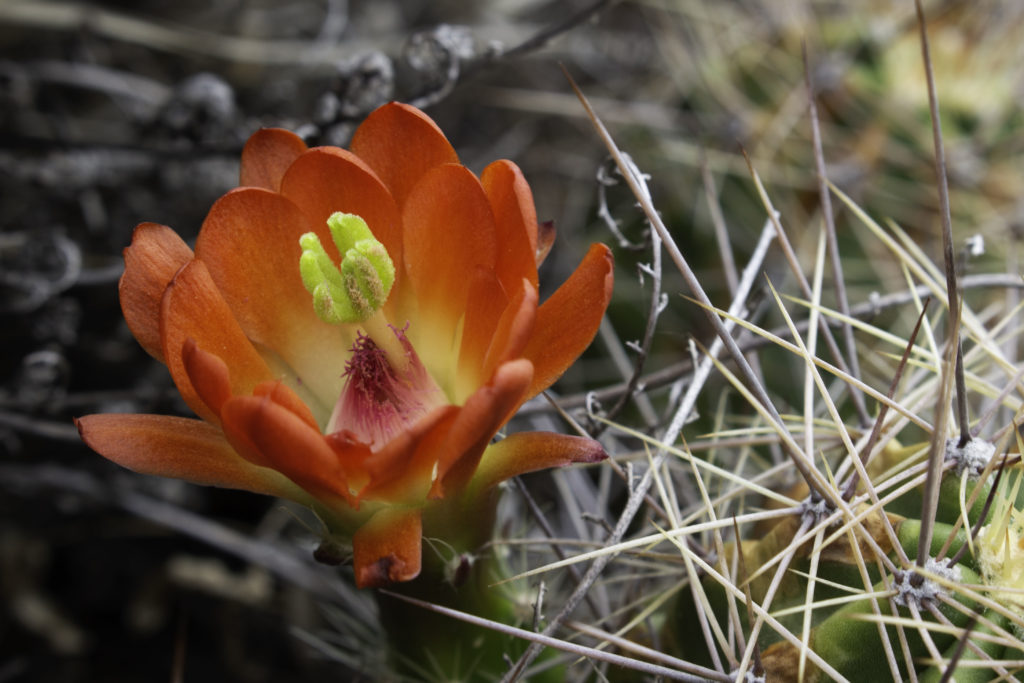 This Scarlet Hedgehog cactus (Echinocereus triglochidiatus) was blooming along the trail, beautiful but the thorns are wicked! Also known as the Claret Cup Cactus.
Our lunch spot for the day was on the north side of Moss Lake looking back at Enchanted Rock. Enchanted rock is over 1.1 billion years old. It was formed as an upheaval when two continents collided. The larger dome is 425ft high and the hike to the top is like climbing the stairs of a 30+ floor building. Both of the two large domes at the park is part of a 62-square-mile batholith with the majority of the gargantuan granite base being underground. The domes would have been turned into a quarry in 1978 if not for Lady Bird Johnson who convinced Nature Conservancy to purchase the property for $1.3 million in the late 1970's. The Texas State Capitol was built from the same stone that makes up Enchanted Rock: Town Mountain Granite, which is a mix of salmon-pink feldspar with flecks of black mica, quartz, biotite and other minerals. One version of how the name "Enchanted Rock" came to be is as follows: the Tonkawa, Apache and Comanche tribes believed the rock was powerful, even if it was haunted. Native tribes looked to the supernatural for explanations, giving rise to the idea of enchantment.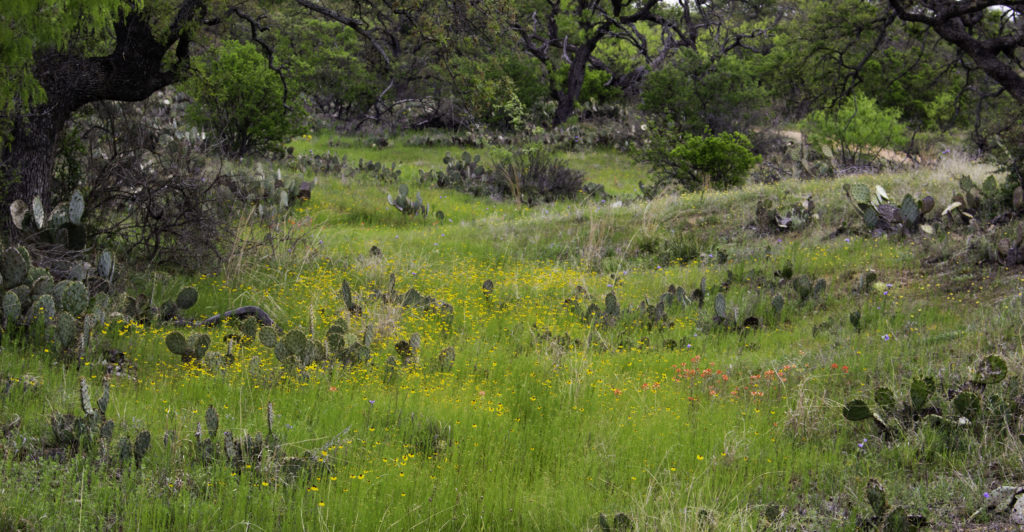 Some more Greenthread and Indian Paintbrushes with Prickly Pear cactus along the trail (see trail near the top right)
Outside Enchanted Rock area on the highway we found some Indian Blankets (Gaillardia pulchella) also know as Firewheel.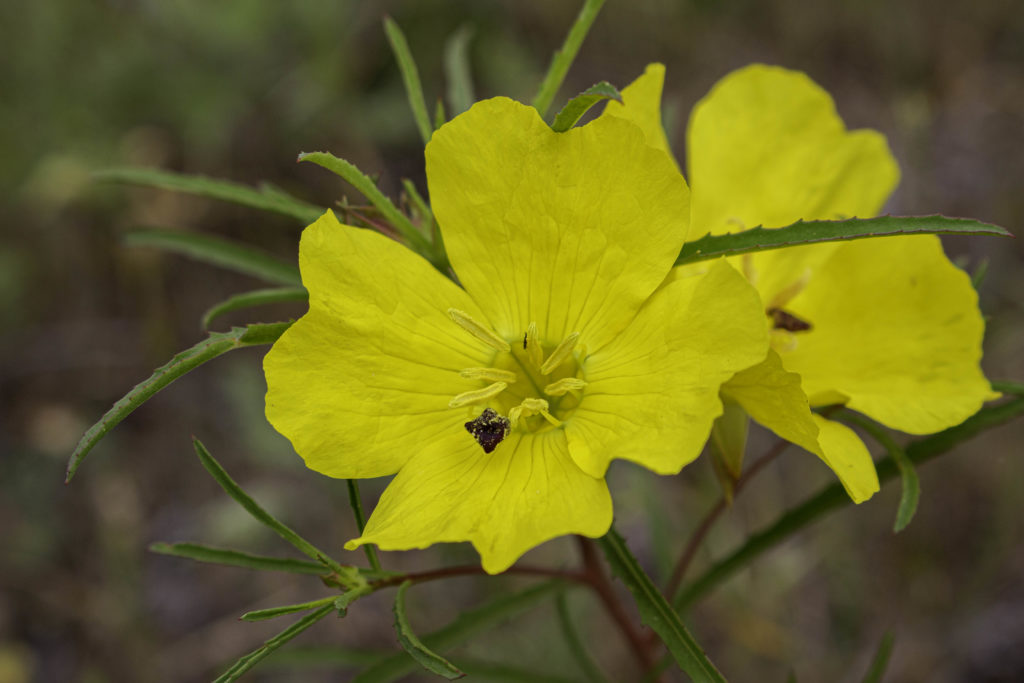 And also found some Missouri Primrose (Oenothera missouriensis).
Also found these Englemann Daisies (Engelmannia pinnatifida).
Near where we were staying outside Fredericksburg,  we found this yellow carpet of Slender Stem Bitterweed (Hymenoxys scaposa) with a few Rose Vervain in the foreground). Every part of the Bitterweed is very bitter: cattle avoid it and any honey from bees that collect from the flower can also be bitter.

Nice patch of Rose Vervain (Verbena canadensis) on FM165
Found these Silver Leaf Nightshade (solanum elaegnifolium) growing around the rural mailboxes along FM3232. The native Americans used the berries from this plant to make a cheese and also to treat a sore throat and toothache.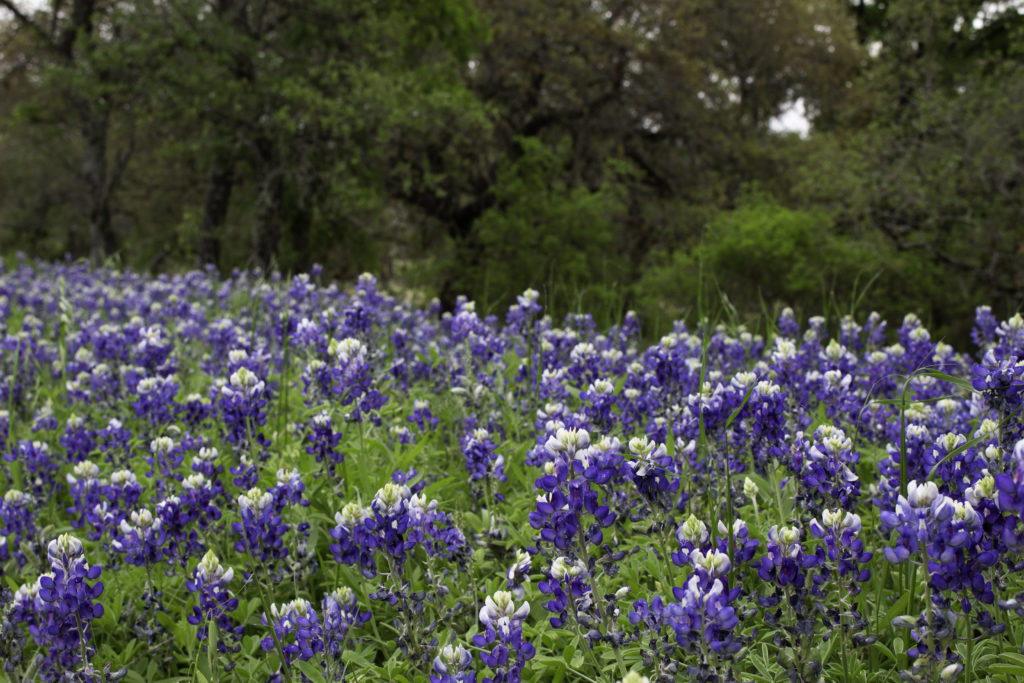 A patch on Texas Bluebonnets (Lupinus texensis) on FM3232. A little further down the road we found a winery we did not know about, Texas Hills Vineyards – We stopped and had a tasting to complete our Texas Hill Country wildflower tour.
From the year 2020:
July 6, 2020 – Joe Floyd sent me an email about "…the most impressive field of bluebells I have ever seen" north of Brenham, TX.   We had never seen bluebells in Texas, partly because we were usually traveling out of state in July. Karin and I decided to check it out with a quick trip to Washington County.
Texas Bluebell (Eustoma russellianum) was quiet a surprise.  The Texas Bluebell is purple, 3-4 inches in diameter. and the "bell" opening is upwards. There are multiple flowers on stalks that are one to 1.5 feet high. These flowers are part of the Gentian family and also called showy prairie gentian, prairie gentian, and Lisianthus.  The Blue Bell Creamery takes its name from this native Texan wildflower that proliferates in the hot Texas summers–high season for enjoying ice cream. I have seen many bluebell flowers hiking elsewhere but those flowers are actually blue, small (1/2 inch in diameter/ 1 inch long) and the flowers were hanging down looking like a bell and are from a different family, Asparagaceae
.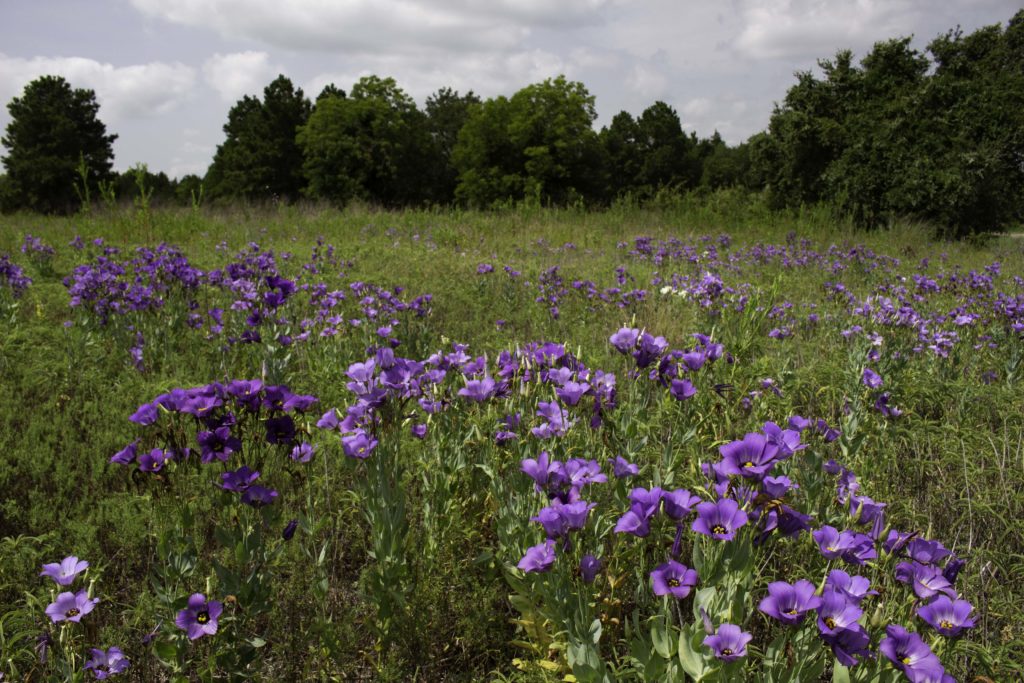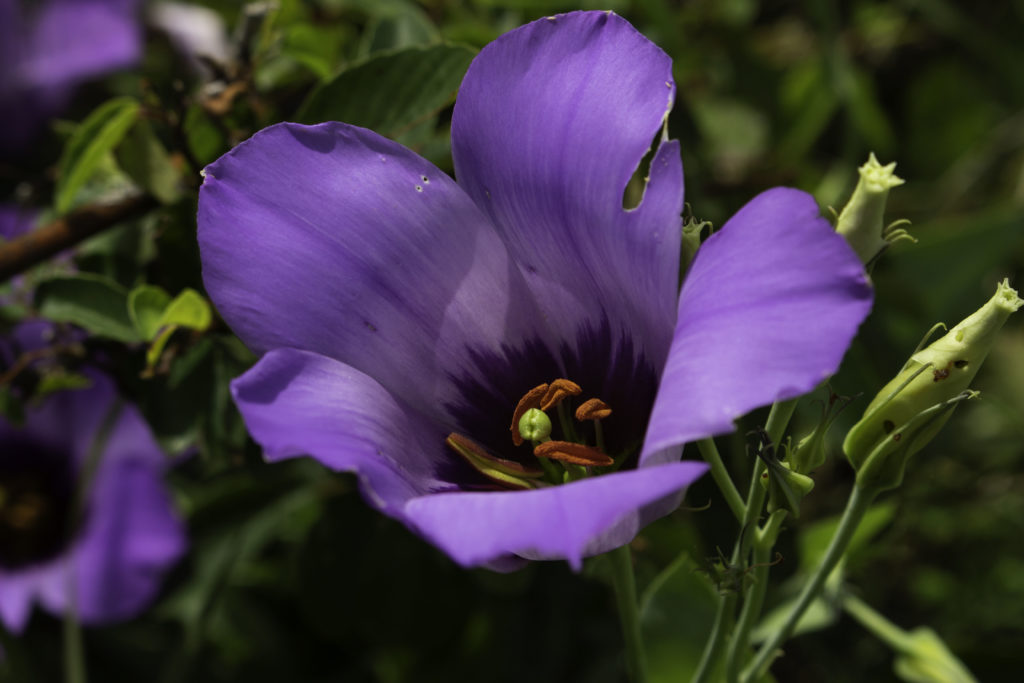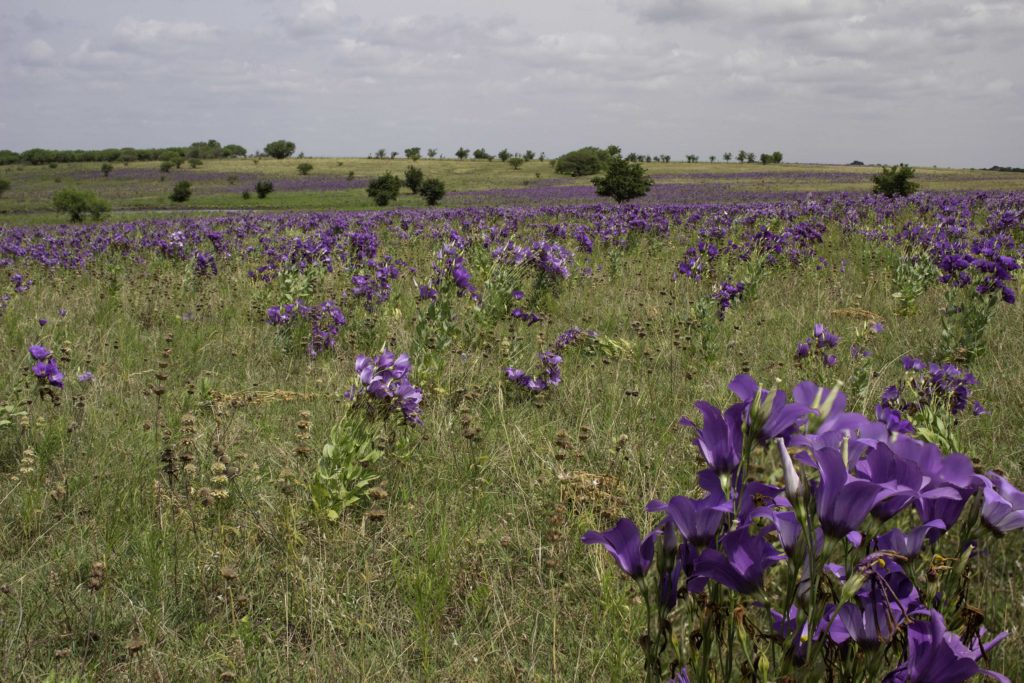 Other than the couple of fields of Bluebells, flowers were sparse until we found this patch of Golden Crownbeard (Verbesina encelioides) growing in a disturbed area north of Chappel Hill. These flowers are part of the sunflower family. The plant has an unpleasant odor if you disturb or crush the foliage. Reportedly, native Americans and settlers used the plant to treat boils, skin disease and spider bites. Also known as cow-pen daisy because it often grows in barnyards.
.
May 2020 – Since we did not take our annual central Texas trip to see and photograph Texas wildflowers, we found them in our own town. The flowers were found in the Baytown Nature Center. This area is a former neighborhood along Burnet, Crystal, and Scott Bays that subsided and became a tidal flood issue (subsidence from ground water removal). The Nature Center has an area that is park grounds for picnic and fishing and a wildlife area with trails and lagoons of brackish water connected to the surrounding bays. The wildflowers are there but not in mass displays.  After these recent flower posting, are flowers from a short trip in early March to Washington County in Texas.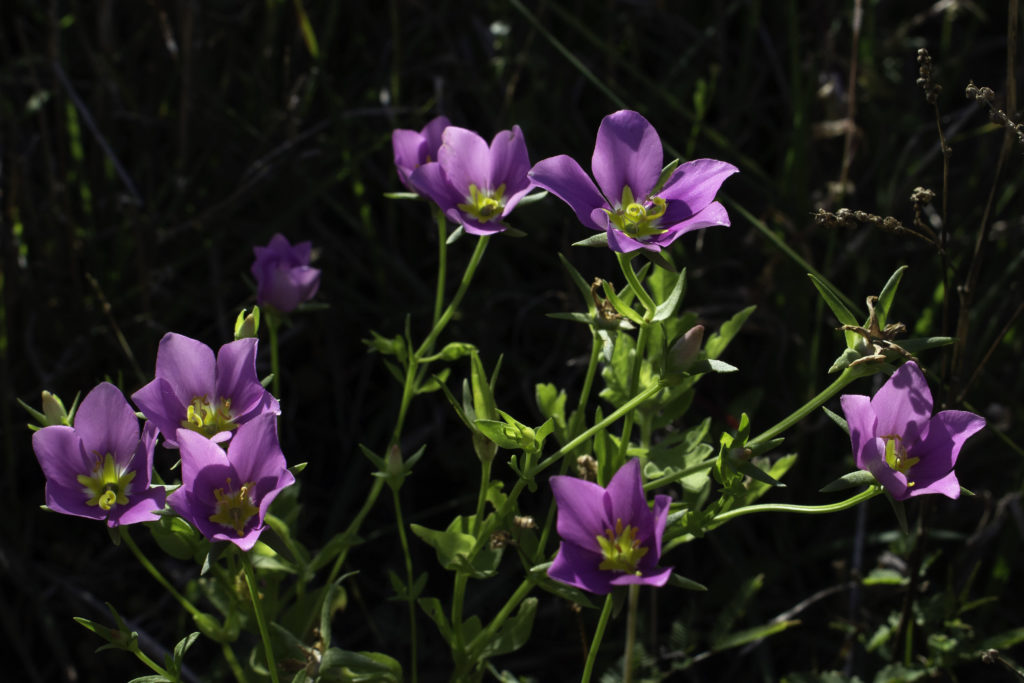 Meadow Pink (Sabatia campestris). These flowers are about 1 inch in diameter.
.
Indian Blankets (Gaillardia pulchella) also known as Firewheels are a common flower in Texas but beautiful. It is the state wildflower of Oklahoma.
.
Salt Marsh Mallow (Kosteletzkya virginica) along a pond in the Baytown Nature Center
.
Retama (Parkinsonia aculeata) also known as Horsebean, Jerusalem Thorn, Mexican Paloverde is a thorny small tree/shrub native to the southwest that produces an abundance of yellow flowers. The word Jerusalem in the common name Jerusalem Thorn does not refer to the Middle Eastern city but is a corruption of the Spanish and Portuguese word girasol, meaning turning toward the sun. This tree requires full sun and can tolerate some salty water. I remember as a youth learning to avoid walking near one of these barefoot – the thorns are wicked. The seed pods are an emergency food for cattle/horses.
.
Helmet Flower or Skull Cap (Scutellaria integrifolia) has blooms that are about 1/2 inch wide
.
Yes, these are not flowers!  We were fortunate to see some Roseate Spoonbills in the lagoons at low tide. Unfortunately, I did not have the camera lens needed to get close-ups.
.
The bees were really working the Cherokee Rose (Rosa laevigata). I had always thought this was a Texas Wild Rose but the references indicate otherwise. It is the understanding that all roses "native" to the USA were imported long ago from China. The Cherokee rose arrived in the mid 1700's. It is the state flower of Georgia. The flower is linked to U.S. history through a tragic event in 1838 in which thousands of Cherokee were forced out of Georgia and other lands east of the Mississippi River. The path taken by Native Americans was dubbed the "Trail of Tears" because of the tears shed by Cherokee women on the journey. Cherokee chiefs prayed for a sign to give their women hope and the strength to care for their children. It is said that wherever a tear dropped, a Cherokee Rose bloomed. The flowers continue to bloom along the path today.
.
Two "versions" of Scarlet pimpernel (Anagallis arvensis). This low growing small flower (~ 3/8 inch in diameter) can have either the blue, pink, scarlet, or orange flowers.  The plant is acrid and bitter and toxic if eaten in sufficient quantities.
.
Chinese Privet (Ligustrum sinense) is an invasive species related to the wax leaf ligustrum. Originally it was brought from china as an ornamental bush with sweet scented flowers and now can be found throughout the US.
.
Winecup (Callirhoe involucrata) is a low growing mallow that has these 1 inch diameter very purple blooms. The roots have been used medicinally for headaches and other pains
.
Heavenly Blue Morning Glory (Ipomoea tricolor) is a vine native to tropical Americas but has been cultivated and the seeds can be purchased. Also called Mexican Morning Glory. Many think Morning Glory seeds are poisonous but the references indicate that they are not – but taken is sufficient quantity, they can produce hallucinations. The seeds contain a naturally occurring tryptamine called Lysergic Acid Amide (LSA), which is closely related to LSD. (maybe more why they are cultivated??)
.
March 2, 2020 – We cancelled our planned spring trip to the Fredericksburg TX area to see wild flowers due to the spread of COVID-19. Instead we took a day trip around nearby Washington County in late March and was rewarded with a nice display of Texas wildflowers. The last two photos were taken today in the front lawn in our neighborhood (that is in need of a mowing, but has some nice flowers).
Indian Paintbrush (Castilleja indivisa) in the patch of Pointed Phlox (Phlox cuspidata) on Salem Road near Brehman TX
.
Field of Coreopsis (Coreopsis basalis), a member of the sunflower family along Hwy 290. There is this one area east of Chappell Hill just outside Washington County that routinely has Coreopsis and we never find it anyplace else in the area.
.
Texas Blue Bonnets (Lupinus texensis) on a ranch on Hwy 290 near Chappell Hill, TX
.
Karin is taking photos in a field of Butterweed (Senecio glabellus) on Salem Road near Brenham TX
.
Indian Paintbrushes (Castilleja indivisa) along Hwy 390 in Washington County, TX
.
Bumble Bee in the Showy Primrose (Oenothera speciosa) in Baytown TX
.
Showy Primrose (Oenothera speciosa) in an un-kept lot in Baytown Texas
Categories: Flowers