Family and friends arrived in northern Arizona to do a "rim to rim" crossing of the Grand Canyon and to deposit the ashes of my sister, Jamie, at the bottom of the canyon per her request. Unfortunately, the national parks were closed due to a government shut down over budget spending. So we instead climbed Mt Humphreys of the San Francisco Peaks near her home outside Flagstaff to place some of her ashes there – another one of Jamie's favorite places. There was a heavy snow just before we arrived that made the hike a bit challenging.
San Francisco Peaks from Steve's House – Oct 11, 2013
View of the San Francisco peaks from Steve's backyard. Snow the day before – Flagstaff, AZ – Img 37302b
Mt Humphreys Trail – Oct 11, 2013
Alida leading the group up Mt. Humphreys trail to scatter Jamie's ashes. The trail was snow the whole way. – Flagstaff, AZ – Img 37303
View from Mt Humphreys – Oct 11, 2013
View from near the saddle on the trail up Mt Humphreys – Flagstaff, AZ – Img 37308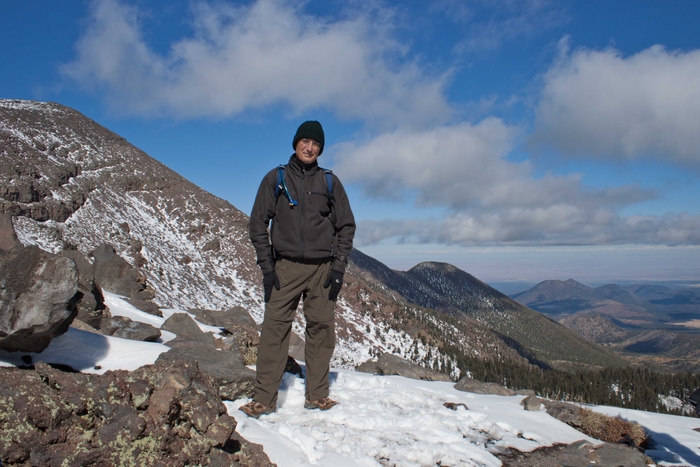 Randy at the Saddle, Oct 11, 2013
11,800ft at the Saddle after 3,000 feet rise in 3.5 miles. Arrived in short sleeves but did not take very long to layer up clothes to stay warm – Flagstaff, AZ – Img 37318
Barry and Arlette at the Saddle, Oct 11, 2013
Barry and Arlette at 11,800ft at the Saddle after 3,000feet rise in 3.5 miles – Flagstaff, AZ – Img 37310
Sunset on San Francisco Peaks, Oct 11, 2013
Taken from Steve's house – Flagstaff, AZ – Img 37322
Lisa at Red Mountain, Oct 12, 2013
Formations of Red Mountain in Coconino Forest are cinder hills of various colors. Easy trail out to the formations. Flagstaff, AZ – Img 37353
Aspens, Oct 12, 2013
Coconino Forest outside Flagstaff, AZ – Img 37389
San Francisco Peaks, Oct 12, 2013
View of the mountains from a valley along US180 out of Flagstaff, AZ – Img 37366ac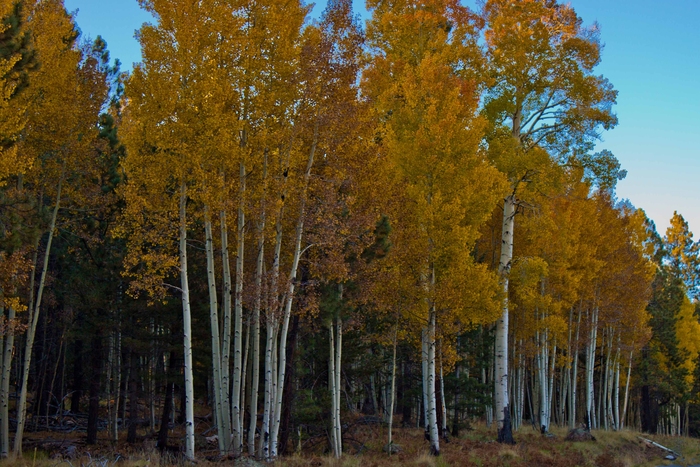 Aspens, Oct 12, 2013
Aspens on Snow Bowl road outside Flagstaff, AZ – Img 37397
Jamie Lynn Dickey – Jan 2, 1955 – Dec 30, 2012
Jamie Lynn Dickey taken too soon from this world passed on December 30, 2012 at her home in Austin, Texas after a spirited 4-year battle with cancer. She was born January 2, 1955 in Houston, Texas.
Jamie lived a full life. She traveled, enjoyed, and cherished the natural beauty of the world. One of her favorite places was the Grand Canyon which, with her husband Steve, she hiked into, crossed rim to rim, rafted, and camped numerous times. They enjoyed the outdoors together and they traveled the world, diving, biking, and hiking. Jamie saw the open sky and earth and called it home. Everyone who knew her truly believes that she will live on forever in our hearts and minds. Jamie will be mostly remembered for her love of life, compassion for others, her strength of character, raw intelligence, and fortitude. Many friends and family members wonderfully benefited from her wisdom, mentoring and generosity. She taught us how to live, and over the past four years, she taught us how to pass from this world with dignity and grace.
Jamie earned a degree in Environmental Design at the University of Houston in 1980. Professionally, Jamie had a large impact in the designing of commercial and residential properties, and she leaves her impeccable flair in the homes she designed and oversaw the construction of, both in Austin and Flagstaff.
She was preceded in death by her father, Ansel Dickey. She is survived by her mother Audrey (Gilbert) Dickey, husband Steven Carothers, son Ryan Jones, step children, Tanner, Kenny and Cooper Carothers, Carol Kennedy, her sister Lisa (Dickey) Boecker, brothers, Randell Dickey and Benny Dickey, nephews, Collin Boecker, Sean Dickey, Austin Dickey and niece Jaculine Boecker. Jamie will be incredibly missed by her six grandchildren (Grace, Jacob, Sophie, Justine, Kevin and Sadie), to whom she was lovingly referred to as Tutu. Jamie leaves behind many additional relatives, her "Tribe" of close friends in Austin, Flagstaff, and beyond—friends too numerous to count as she made lasting friendships with almost everyone she met.
Jamie has requested donations in lieu of flowers be made to one of her favorite places, either the Lady Bird Johnson Wildflower Center in Austin or the Museum of Northern Arizona in Flagstaff.
Categories: Hikes